Jul 17 2008
The river was aptly named "usi-a-di-en-uk" by the Mohicans who came across the Taconic mountains from New York: its name means "beyond the mountains." In the eighteenth century, the river powered iron forges in Pittsfield that made ploughshares and anchors and nails. In 1800, Zenas Crane built a mill to make paper.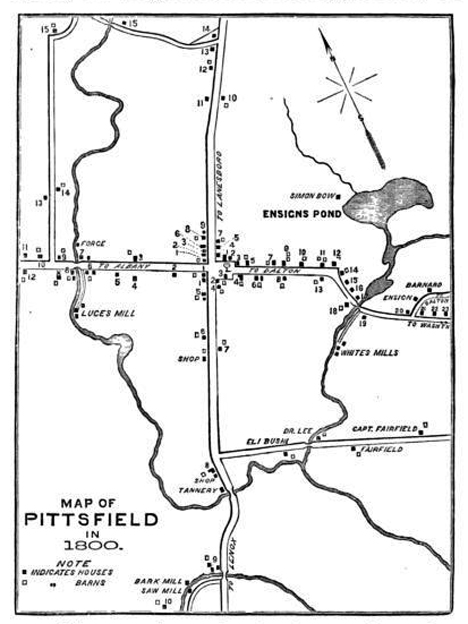 Pittsfield map (1800) with mills along the River – Smith's History of Pittsfield, 1876
Soon there were saw mills and grist mills, dye works, and factories for weaving and spinning. Water was power, and water drove industrial development.
The mills became more sophisticated, and what began as small businesses providing simple tools grew into larger enterprises for the export trade. One of Pittsfield's first claims to fame came in 1804, when the combination of machinery made by Arthur Scholfield and fleece from the Berkshire's merino sheep produced America's first fine broadcloth. During the next 30 years, there was a small explosion of cotton mills, and, by 1850, people had moved to live near the mills that clustered about the river.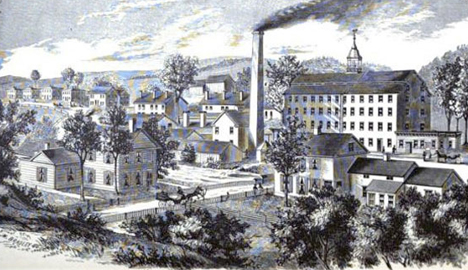 Pontoosuc woolen mills – Smith's History of Pittsfield, 1876
In so many ways, those who used the water and controlled the "water privileges" granted by the town of Pittsfield controlled the economy. Lemuel Pomeroy leveraged profits from the Pittsfield Woolen Company to create the Pontoonsuc Turnpike Company in order to build the first road from Pittsfield to Springfield; he later joined with others to create railroad lines. In 1851, his heirs played a central role in establishing the Berkshire Life Insurance Company.
Pittsfield became the county seat in 1867. A courthouse and jail were built and Berkshire Life built a four-story building at the intersection of North, East and West Streets to house not only the company but three banks, the post office, and government offices. The bankers and mill owners formed a board in 1872 and by 1874 had erected the Berkshire Atheneum, a library for the city. By 1875, Pittsfield had a population of 12,267. Crane bought out other paper mills and in 1879 began to produce all the paper currency for the United States. Besides textiles and paper, the mills were making saddles, buggy whips, wagons and coaches and railroad cars.
William and Clara Wadhams Stanley lived down river in Great Barrington. Though their grandson, William Stanley, was born in 1858 in Brooklyn, New York, he had spent part of his youth in Great Barrington. By the early1880s, he had been an electrician, an engineer, and an inventor. He was passionate about the new field of electricity and dedicated to finding solutions to its limitations. At the time, the early electrical distribution system was based on direct current (DC), which required thick wires, low voltage, and was able to transmit electricity no more than a mile.
While working for George Westinghouse in Pittsburgh, Pennsylvania, Stanley began to experiment with induction coils, and with ideas about what later came to be an electrical transformer able to create alternating current (AC). Westinghouse felt that transmitting such high voltage, alternating current over large distances would be dangerous, and would require greater insulation. Prompted by a combination of overwork and failing health, Stanley returned to Great Barrington to rest and regroup. It was there in 1886 with Westinghouse's support that Stanley, using the water power of the Housatonic, installed the nation's first AC system to provide electric lights along Main Street.
Four years later he moved to Pittsfield with two partners to establish the Stanley Electric Manufacturing Company. The company manufactured electrical transformers and appliances. In 1903, General Electric purchased Stanley Electric and began operations in Pittsfield by the Housatonic River.