Jul 17 2008
The Housatonic River flows nearly one hundred and fifty miles from its Massachusetts headwaters at Muddy Pond in Washington, Richmond Pond and Pontoosuc Lake through Berkshire County and on through Connecticut to the Long Island Sound.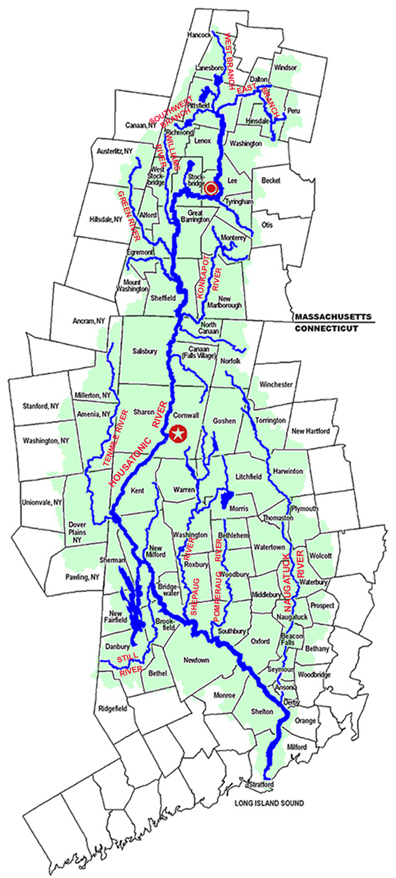 Map: Housatonic Valley Association
The River has a long and complicated history. We have divided the story into several parts:
* EARLY HISTORY OF THE RIVER
* GE AND PCBs
* CLEANING THE UPPER TWO MILES: A SHORT HISTORY
* THE REST OF THE RIVER
* OUR BERKSHIRES

When the United States Environmental Protection Agency negotiated with the States of Massachusetts and Connecticut and GE and began its most recent efforts to clean the Housatonic River of contamination and to restore it, it divided the River into three sections:
The Upper 1⁄2 Mile Reach Removal Action, which was completed in September 2002, addressed the contaminated riverbanks and sediments in the East Branch of the Housatonic River from the Newell Street Bridge to the Lyman Street Bridge.

The 1 and 1⁄2 Mile Reach represents a section of the East Branch of the Housatonic River between Lyman Street Bridge and the confluence of the East and West Branches of the Housatonic River. The 1 1⁄2 Mile Reach is located within residential, commercial, industrial and undeveloped/recreational properties.

Rest of River is the term used in the Consent Decree to describe the investigation and decision-making process for the Housatonic River from the confluence of the East and West Branch downstream into Connecticut.
You can learn about the clean-up activities in the Upper 1⁄2 Mile Reach and the 1 and 1⁄2 Mile Reach in the sections that follow.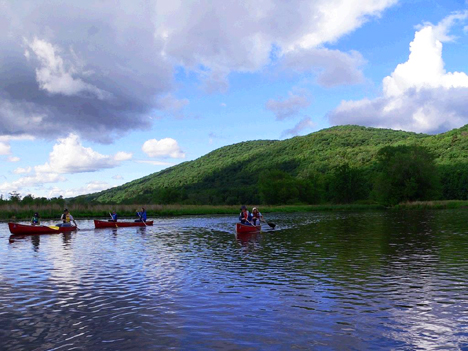 Canoe ride, Housatonic River – Photo Courtesy René Laubach, Mass Audubon
The area we are concerned with now lies within the Rest of the River. This Upper Housatonic Valley area includes a 13-mile stretch of the river extending from the confluence of the East and West Branches in south Pittsfield southward to north Lee. It includes four communities – Lee, Lenox, Pittsfield and Washington – and covers approximately 12,000 acres.
This stretch of the Housatonic River is comprised of a complex and rich ecosystem that includes the river itself, adjacent wetlands and floodplains, several tributary streams, abundant wildlife, concentrations of rare species, and the steep, forested, western slopes of October Mountain State Forest.
The river and its adjacent uplands also provide an array of dramatic scenic vistas and a wide range of public educational and recreational activities on protected lands. They include important historical and archaeological resources.
The Massachusetts Division of Fisheries and Wildlife (MADFW) recently referred to the Housatonic River watershed as "one of the most biologically rich and unique regions in the Commonwealth," supporting "a unique ecosystem" with "many species found no where else in Massachusetts." Indeed, there are 30 documented state-listed rare species located within this area.
Mass Audubon has designated the Upper Housatonic River Valley as an Important Bird Area, underscoring its significance as bird habitat and as a migratory corridor, representing "some of the finest riparian habitat remaining in Central Berkshire County."